Cow & Gate Follow-on Milk comes in a ready to drink format. Just simply shake open and pour.
Why Cow & Gate ready to drink?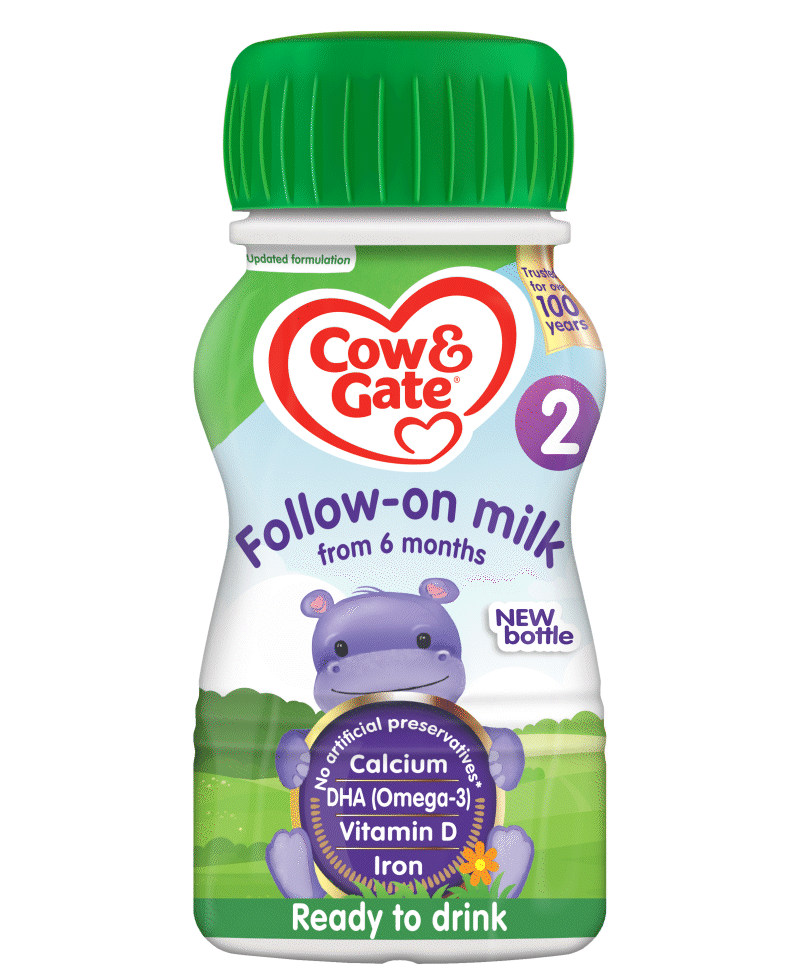 Ready to drink
Ready made bottle, great for when you're out and about. Simply shake, open and pour into a sterilised beaker and feed to your little one.
Trusted for over 100 years
We've spent over 100 years feeding millions of babies. We test our range to high standards so you can be assured when you choose our baby milk.
No palm oil or artificial preservatives*
Made with no palm oil or artificial preservatives*.
*As required by legislation.
Enriched with important nutrients
Enriched with Omega-3, Vitamin D & Calcium.
Ready to feed first infant milks
Suitable from birth
Ready to drink follow on milks
Suitable from 6-12 months
Ready to drink toddler milks
Suitable from 12 months +
Any more questions?
Our specialist baby advisors and experienced mums are here to talk and ready to help whenever you need them. You can call us or reach us on Live Chat 8.30am-5.30pm Monday-Friday.
Quality guarantee
We are devoted to providing you & your baby our very best. We don't produce for any supermarket own-label brands. Find out more about our commitments to high quality


Important notice
Breastfeeding is best for babies. Follow-on milk is only for babies over 6 months, as part of a mixed diet and should not be used as a breastmilk substitute before 6 months. We advise that all formula milks including the decision to start weaning should be made on the advice of a doctor, midwife, health visitor, public health nurse, dietitian, pharmacist or other professional responsible for maternal and child care, based on baby's individual needs. Use Toddler milk as part of a varied balanced diet from 1 year.